Hi!

Yes yes I know there are 71671417419 chat scripts around and now I come here and drop another one... but this isn't just any chat script! It has a lot of features you will probably like that many others does not!
First of all, you can use it with any GUI you want. If they already have a chat window you can just disable it and use this one. It is also based on AdjustableContainer which means you can move it around, resize, recolor (editing the script), etc to fit your needs!
Second... It has OS notifications for your chat tabs! Just tell the script which tabs you want it to notify you and you will receive notifications in your OS whenever someone says something! Good stuff right? :>
There are also a lot of other things like gagging specific messages, logging, ndb support and a bunch of other stuff! For more information just read the readme in github or in the package itself!
Most of the code was made by demonnic, the maker of our beloved YATCO now EMCO. I just adapted the channels to use achaea ones and added one thing or another :>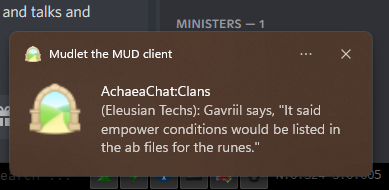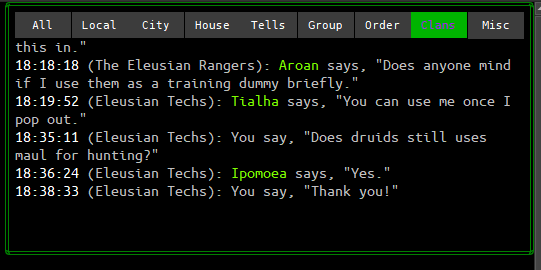 TheLastDarkthorne/AchaeaChatTabs: Set of chat tabs with automatic handling for Achaea. Standalone, resizable, and autologging. Based on demonnic's LusterniaChatTabs. (github.com)
Download link (always points to latest version or at least should!)
You notice a terrible smell in the air and see that Zoot, a leafy humgii is trying to look inconspicuous.
A Tsol'aa archer exclaims, "Ahhh...how nice to breathe the fresh air of the forest!"