So, like, the year is ending. It has been a pretty eventful one for me (and everyone else). From being a total
idiot
genius IRL to getting ready to move to Australia, things've been changing a lot. My mother came down with cancer earlier this year (fully recovered, tyvm) and the few people I told were extremely supportive. Etc, etc, Tvistor's emo.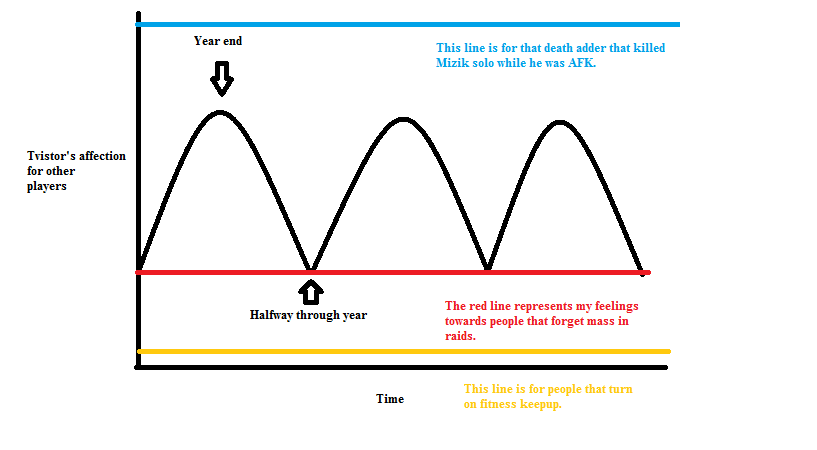 ANYWAY
! It's been a seriously eventful one. I need to wake up early but am taking the time to drop off a ton of raves. (and everyone else should do the same for those players they love -- no I don't care we already have a thread, this is
special
). In no particular order (and only including citymates):
I know you aren't going to read this @Tenemara, but you were the coolest thing to hit the Congregation since Carmain decided Infernal was boring.
@Sherazad, thanks for always being free to talk and upbeat no matter how things are going for you. It gets everyone else's moods up too.
@Antidas
You KSing noob, I hope you trip and fall on your artie bow
 dude, I gotta say you're one of the main reasons I've stuck around. You are the voice that whispers 'What if we just backstab everything?' when I am being buried in people claiming combat isn't vital to Mhaldor.
@Jurixe is more or less one of the pillars of RP in Mhaldor at this point. Though we've agreed on and off over things, I'd be a total jerk not to give her a shout out -- chillax and keep doing your thing!
@Tirac, for just being insanely badass. Have you seen the guy? Fear not fear, fear me. I bet Sartan has a Tirac shrine somewhere.
For sparring me, bouncing around vivisect ideas and being the beating heart of the Maldaathi (or like, if not the entire heart, then at
least
the right ventricle), here's to Sir @Arador.

@Kaevan
should definitely get a mention for being ridiculously classy/Evil/intelligent. He made for a hell of an interesting Tyrannus at times.
@Xenomorph for doing his utmost to keep Mhaldor amazing. He doesn't get enough credit for his work
at all
. Hail Tyrannus!
Here's one to @Jiraishin for taking the astounding effort to keep up to date with the Naga no matter what's going on IRL for you. The dedication is amazing, and anyone that doesn't agree need to wait 30 minutes so I can classchange to monk and AXK them.
@Ayoxele, if we do not woeifjaokdmv together, we shall woeifjaokdmv apart.
@Garao for being a constant voice of reason, immune to herd mentality and a jerk that needs to
stop. Class. Changing. (Let him into the ACC, also)

I don't talk to many forestals unless I'm going to be like 'Haha, I have vanquished thine foliage, mine barbarous adversaries!', so here's one for @Aepas who against all odds has somehow managed to successfully RP a forestal in post-alchemist Mhaldor. I don't even. What.

Here's a collective one for all the CR1s because you a) don't have enough rank to earn your own and b) I wouldn't want you to think I actually cared or anything. @Teela, @Quei, @Turoi, I'm glad I broke my 'No OOC' clan rule for long enough to talk to the lot of you. I hope you die slightly fewer times than the average slave. @Daeir, stop playing your alts, damn it. @Daslin, despite his treachery. =(

And you. @Xer. I'd have gone insane if I thought I was the only person trying to make the transition from 'Thinks combat is interesting' to 'Attempting to kill everything that moves'. Hats off to you.

Although he's never around as much as I'd like, @Lodi adds about 200,000,000 layers to the depths of Mhaldor's culture. From snapping off classy Evil banter on the spur of the moment to the planned brilliance of the IIFA, he goes above and beyond the call.

@Ruth, for somehow going from Seneschal (which like, isn't even a real position) to the best Daemonic Hand I've seen since joining. The EF has gone from 'where we keep the forestals' to '

Ahhhhhh stop punching me in the face

'.

@Trey for being so goddamn attractive.

@Nizaris for putting all that work into the BC requirements -- I used the unrevised version when I really needed to fall asleep, as an indicator of how much work went into them.

@Carmain for photosynthesizing.

@Kinilan for blocking down.
Useless seafaring jerk does anyone even know what class he is?
And yeah, that Tvistor guy. What does he even do? Posts a lot on the forums or something? Meh. At any rate, I'm almost certain I must have missed someone I'm going to regret forgetting later, but I'm going to play it off like it was intentional. I'm going to sleep bye eaorigmaelkm